Social Licence to Operate index – INFACT
INFACT research findings, have contributed to an understanding of the key environmental and social challenges that constrain acceptability of the mineral and mining sector in Europe. 
Drawing on this understanding and additional research around social conflict in Europe , the project has determined a set of requirements for achieving and maintaining a Social Licence to Operate (SLO) in a European context.
We have extended the notion of an SLO beyond the stakeholder relations, that dominate much of the academic research in this area, to reframe an SLO in actor network and political settlement theories. (Proctor and MacCallum 2019)
In plain speak, we identified four dimensions or parameters that when combined indicate the likelihood of a project achieving and/or maintaining a social licence. These, as illustrated in Figure 1, are:
Stakeholder relations comprised of both communication and engagement with and between stakeholders;

Local context, broadly defined as what assets potentially affected communities' value and have access to;

Regional development priorities and potential for shared value; and

Internal and external governance as well as evidence of responsible practice.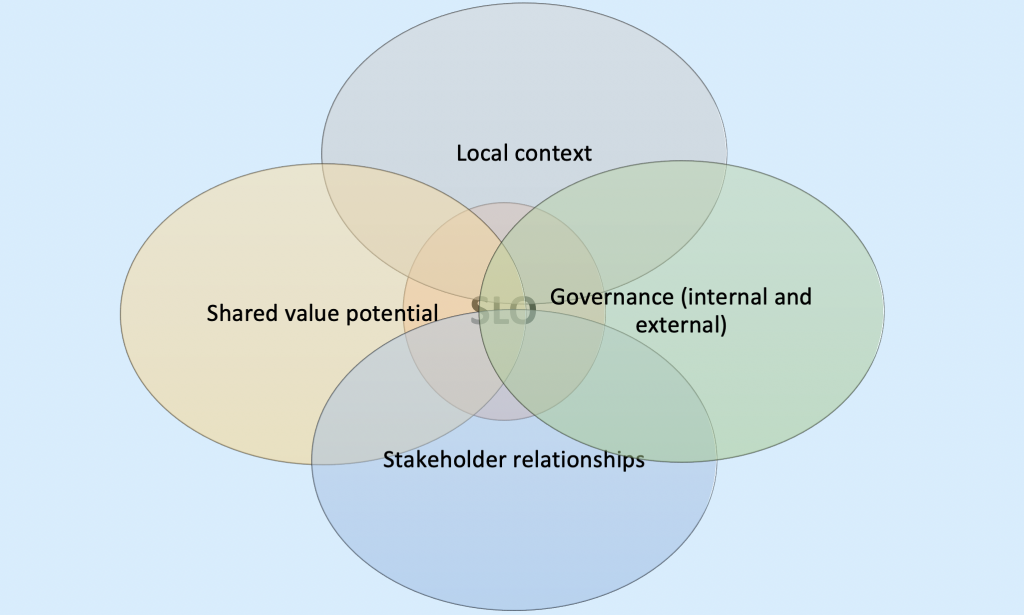 Figure 1: Four dimensions of an SLO
About the SLOi
Taking this one step further we have developed a series of composite indicators for each of the four dimensions. These indicators enable aggregation of multiple variables to produce a composite hierarchal index composed of around 100 variables.
Local context is further categorised through use of the 'asset pentagram' adapted from the sustainable livelihood's framework.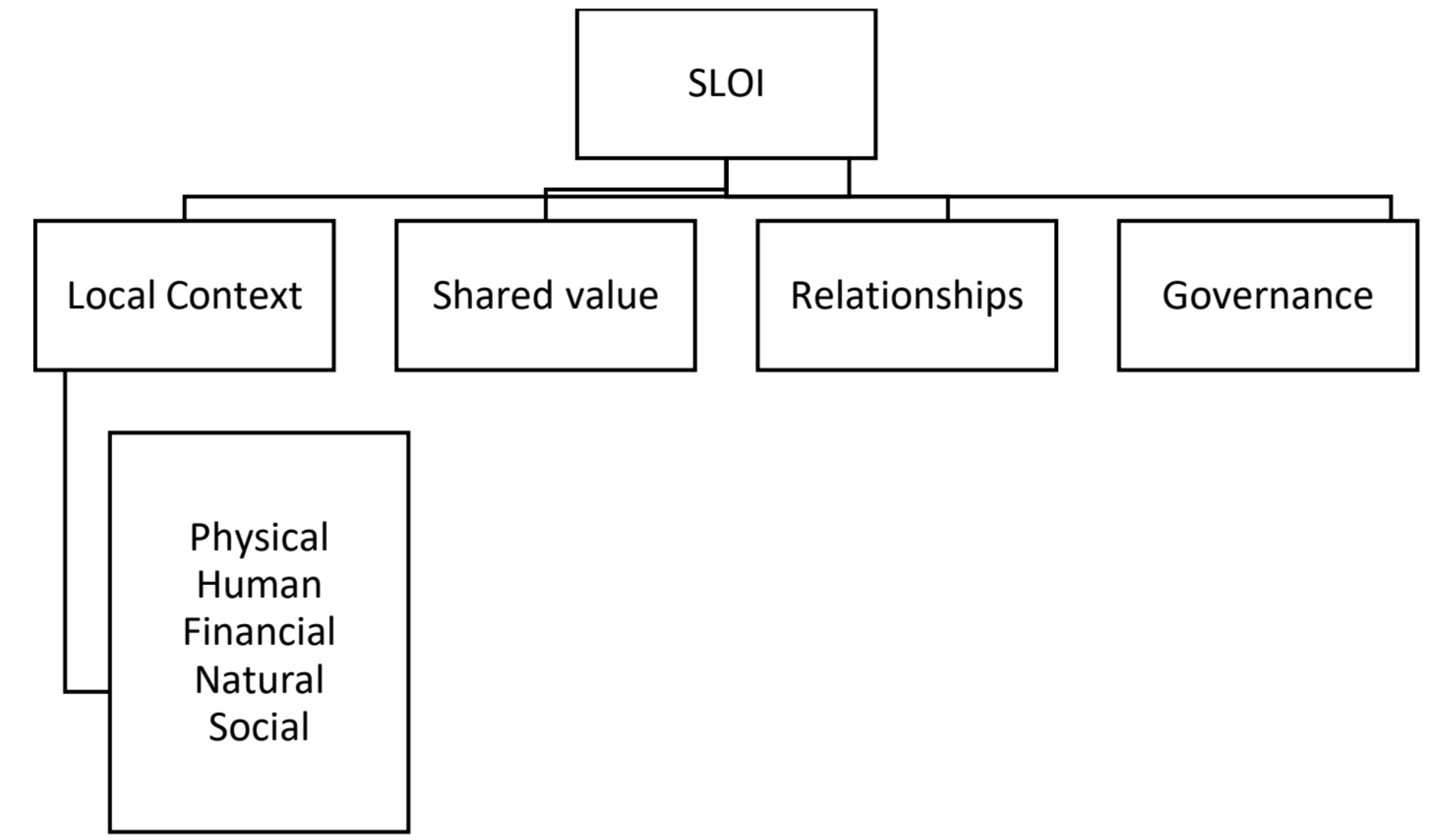 Figure 2: Four dimensions of an SLO
Answering a series of questions with a choice of predefined answers, the SLOi , as a 'forward looking' index, presents an indication of  a projects social licence potential, highlighting both strengths, weakness and potential flashpoints, to be addressed and managed.
Presentation of the SLOi results has been informed by a straw poll of 1200 engineers and geologists to determine how qualitative complex social science justifications can be accessible and understandable to mining sector professionals as well as the layman or woman.
The SLOi results are consequently presented in three ways, using two rose/ radial graphs, one summarising the local context risk profile and one focussing on the four SLO dimensions, as well as an index score on a traffic light bar, familiar to risk analysts.
The trial version is freely available until October 16th. If you are interested in knowing more, we invite you to register using the form below to access the INFACT trial SLOi and discover your projects potential of gaining and or maintaining a social licence.
You will be sent a link to a series of indicator questions, and on completion you  can click on a tab for your results and click on the feedback link to tell us what you think about this tool.
If you complete the feedback you will be sent a summary report of your results from the SLOi, to download and keep.
The final version of the SLOi will  be a web tool linked to existing available data sets , as well as context specific information acquired from answering a series of questions, with fixed response options. We will keep you informed of its status.
Public consultation
Before you can use the tool, register to participate in the public consultation of the SLOi tool! Complete the form below, and receive a personal copy.
Data Processing notice The receivers of your data will be the EFG staff only. Your data will not be shared with third parties and will not be used for other purposes than preparing an analysis or statistics in which your information will be presented as anonymous. You are providing your data on a voluntary basis and you have the choice not to answer certain questions.Your data are processed in accordance with the General Data Protection Regulation (EU) 2016/679. You have the right to access your data and the right to correct any inaccurate or incomplete data. If you have any queries concerning the processing of your personal data, you may address them to the EFG Office at info.efg_at_eurogeologists.eu.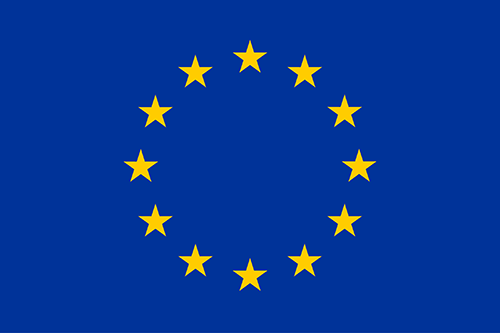 This project has received funding from the European Union's Horizon 2020 research and innovation programme under grant agreement nº 776487.